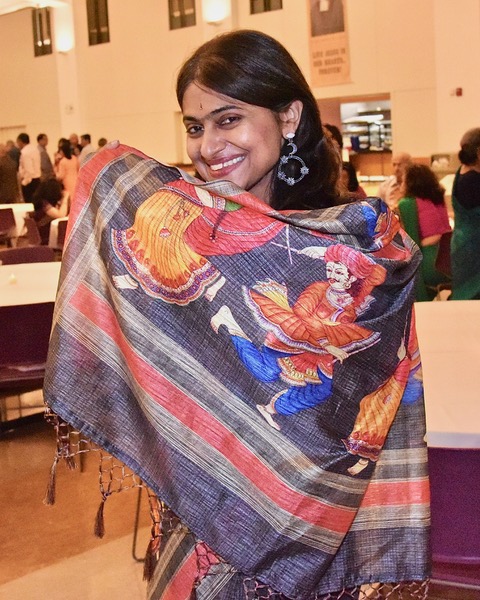 Can you see why I love saris?
Summer 2018 at my mom's student's arangetram
My name is Nartana Premachandra and I'm a writer, classical Indian dancer, and public speaker in St. Louis, Missouri. I'm currently President of Dances of India, celebrating its 42nd season in 2019-2020.
I've been writing for years---novels, poetry, and non-fiction. I also write and narrate dance-dramas for Dances of India. Our most recent production was entitled The Forgotten Ramayana: The Tale of Urmila, the Sleeping Princess. For our 40th Anniversary in 2017, we created Devi of the Ashes--Cinderella in India. In 2016 we presented The Music of Water--Tales of Adventure, Love, & Magic Along India's Sacred Rivers.
To have a glimpse of our productions, please visit: www.DancesOfIndiaStLouis.org
I was born in St. Louis, Missouri. My mom, Asha Premachandra, is Artistic Director of Dances of India, and my dad, the late Dr. B.N. Premachandra--medical researcher in the field of endocrinology and founder of Dances of India--are originally from Bangalore, India. I graduated with a B.A. in French from Washington University in St. Louis and then studied International Relations/Finance at the London School of Economics and at Webster University's campus in London. I've lived in Paris and London for several years, and worked in Yokohama, Japan, for one year. And I spent several storybook summers in what used to be the quiet, idyllic, suburb of Jayanagar, in Bangalore, throughout grade school and high school.
In 2018 I gave a talk on Gandhi's influence on Dr. Martin Luther King at the Missouri History Museum, St. Louis Ethical Society, Florissant Community College, Pfizer Pharmaceuticals, and Ladue Chapel. I additionally gave a Gallery Talk at the Saint Louis Art Museum entitled: The Strong Wondrous Song of the Body: Meaning, Myth, and Metamorphosis Through the Art of the Sculpted Dancer, in which I spoke about movement in the sculptures of Edgar Degas, Rene Sintenis, and Georg Kolbe. And in 2017 I gave Gallery Talks in the Saint Louis Art Museum:
Jan 2017: In the South Asian Gallery--The Great Dance of the Universe: Myth, Movement and Meaning in Indian Art.
Aug & Sep 2017: In the Islamic Gallery--An Iridescent Exchange: Fashion & the Fantastic Along the Silk Road
I also gave a four-week series of talks at Ladue Chapel in October 2018 entitled A Mosaic of Many Hearts, an introduction to the religions, art, and history of the Indian subcontinent.
In 2016, in addition to performing around town, I performed and gave storytelling sessions in the Indian art galleries in the Saint Louis Art Museum. In 2015, I gave readings of my work at Southwest Illinois College--East St. Louis and Washington University (at a memorial for Professor of Classics Emeritus Kevin Herbert). I also gave a workshop entitled A Mosaic of Many Hearts--on Indian literature, myth, and dance--at the Saint Louis Art Museum. (Yes, I love that title so I decided to use it again!).
In addition I have given many dance demonstration/workshops around St. Louis in many different corporations and universities/cultural institutions.